The Bearded Lady serves home- and handmade soulfood from Brooklyn to Bali: a cheerful mix of the best of the West and the beauty of the East with a special place in our hearts for our hearts for our Indonesian and Moluccan roots.
opening hours
Tuesday - Saturday 18:00 - 23:00
Sunday and Monday closed
Contact
Reservations through this website.
(Your table is reserved for two hours. If you want to stay longer, please send us an email upfront)
For requests about private dining and catering please email us at devrouwmetdebaardfood@gmail.com
AdDRESs
Buiten Brouwersstraat 19h
1013GJ Amsterdam
(side-street Haarlemmerstraat, centrum)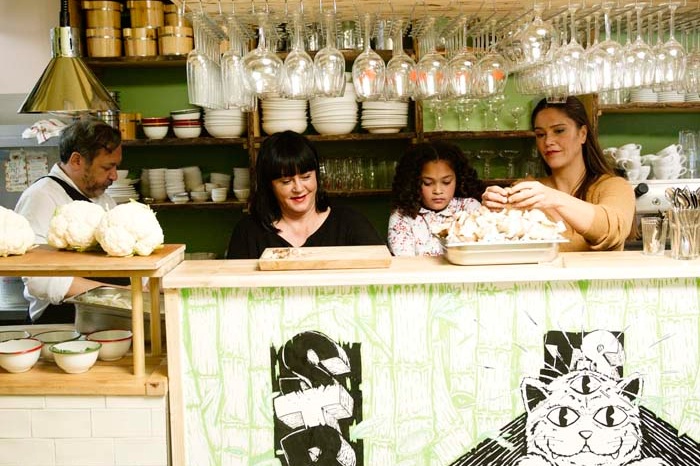 Private dining
Do you want to celebrate, have a festive event, a workshop (or a workshop organized by us, like folding traditional pangsits), teambuilding, private dining, presentation or bachelor party?
The house of the Lady with the Beard is a creative space with soul for private events and we love to create the tastiest Asian fusion soul food classics for you. Edgy, cheerful and elegant.
You are welcome with a maximum of 40 people, or 50 is we make it a walking dinner. Or any other moment during the day.
Click on the button below to get in touch and learn more about the possibilities!
Volkskrant Proefwerk
We ended up as the 5th best restaurant in Amsterdam according to "Proefwerk" in the Dutch newspaper De Volkskrant. We are still so proud of our 8.5 out of 10.
Hiske Versprille: "The 'Rijsttafel of the Lady with Beard is as uninhibited and open minded as they are. No one will leave here grumpy"."
Stadskookboek Amsterdam
Walk and cook your way through town with the city cookbook. Of course the Bearded Lady shared on of here favorite recipes too.
Restaurant Guru
The visitors through Restaurant Guru gave us a "Recommendation Badge"!
Soul food cookbook
For the moments you can't make it to our deli, but still want one of our dishes on your plate: our Soul Food cookbook.
Soul food: dishes made with not so much ingredients, but that go straight to the heart. All over te world family and friends come together over these dishes. Where the kitchen table is that solid rock in turbulent times and family connections get stronger. Soul food came alive by bringing the best ingredients and recipes from different parts of the world together.
Shortlist Amsterdam 2018
After the loved Shortlist Amsterdam, there is now a list with the best culinary cafes in town. And we are in it!
Famke and Floor van Praag take you to the best restaurants where you can walk in for a good glass of wine and a plate with delicious food.
Shortlist Amsterdam no. 3
Could it get crazier? Now we are in the Shortlist Amsterdam no. 3 as well! An updated English version of the shortlist, the bests spots of no. 1&2.
What they write about us:
"So, this is not a fancy Indonesian restaurant, far from it. It is an in-your-face culinary café where cocktails are shaken, where there is laughter and life and where hugely cheering dishes are served. A place to warm the cockles of your heart and your belly."
Gault & Millau
We got a spot in the French restaurant guide "Gault & Millau"!
What they wrote about us: "This restaurant presents itself as 'Deli with Soul food from Brooklyn to Bali'. We started with cocktails, the Pink Bunker G&T with organic gin and a Sophisticated Cucumber Mule. Both perfectly shaken and delicious in taste. For bites we went for Drunken Porkbelly Boa Buns. Perfectly prepared, super soft, sweet and salty at the same time. An amazing night! After that the Indische rice table, with Asian twist. Beautiful soft cooked rendang, cauliflower tempura, pickles with clove and Korean baked pine apple. We will definitely come back for the vibe, cocktails and the DJ. Highly recommended for a night with friends."
Once upon a time we started the Bearded Lady to give us the perfect excuse to fill our kitchen table with friends. Our secret ingredient is some nostalgia, so they will come back time after time. Probably a little handicap about loving and being loved. But cosy for sure, all gathered around the kitchen table. That table became too small, so we started our deli in the city center of Amsterdam.
With our European, Indonesian and Moluccan roots, the Bearded Lady has developed an Asian and Western style of cooking where east meets west in ingredients and recipes. We call it food for travelers and dreamers.
We mix Asian fusion, French and old-school Indonesian to serve a diversity of heavenly snacks and sophisticated menus.
Follow our latest adventures on Facebook and do some daydreaming with our Soulfoodmix on Spotify.